Jay Schools are now closed today, Friday, February 18, 2022. An eLearning Day will be implemented.

We appreciate SRO Cody Jessee! Thanks for all you do to keep kids safe. Also, thanks to county leadership and the school board for supporting an SRO in our schools.

Director of Bands Opening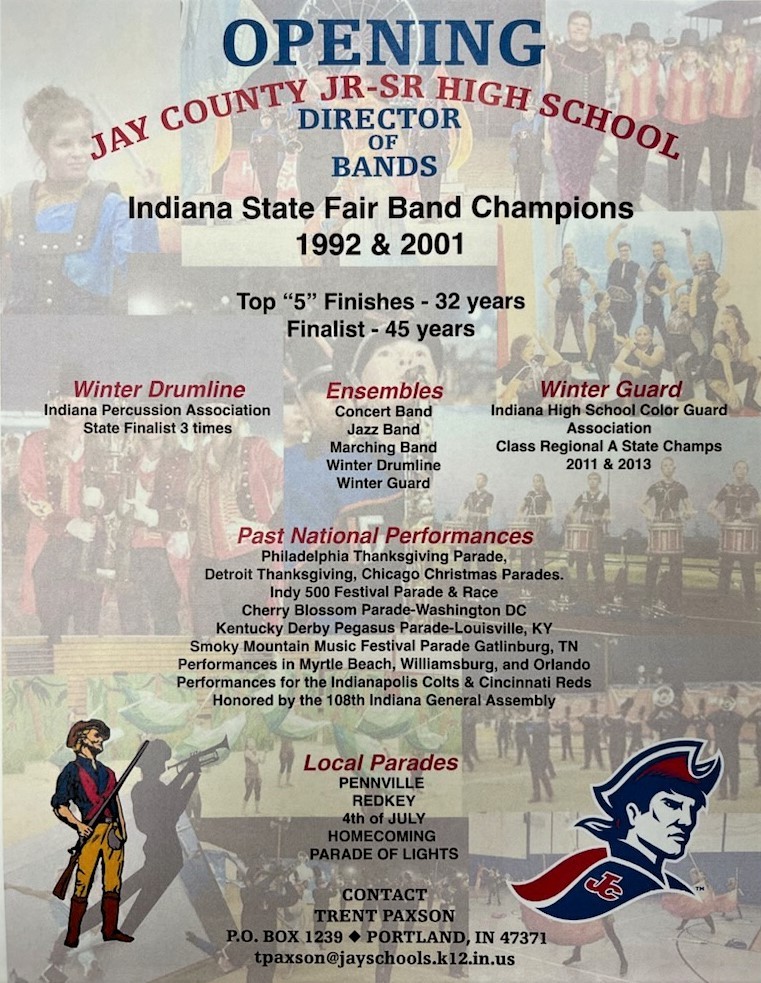 Jay Schools are on an eLearning day, Friday, February 4, 2022.

The National Weather Service has advised that Jay County is under a Winter Storm Warning from 1:00 PM Wednesday to 1:00 AM Friday with a possible 12 - 16 inches of snow. Jay Schools will be on an eLearning day, Wednesday, February 2, 2022. Given the second wave of snow and wind forecasted, we may well be in the same situation on Thursday. Given the confidence of the weather service in this forecast, our early announcement is intended to give everyone time to prepare. We will review the situation as it develops and update everyone on our social media, parent emails and text messages and our local radio WPGW. The NWS update is at the link below:
https://youtu.be/9C2xbncji0o

Due to the National Weather Service Wind Chill Advisory, Jay Schools will be on an eLearning Day, Wednesday, January 26, 2022.
Jay Schools are on a 2 hour delay, Tuesday, January 18, 2022.

Happy Martin Luther King Day!

New Bus Driver Recruiting Bonus- CDL and Yellow Card Reimbursement New applicants will have the opportunity to earn a sign-on bonus to become a certified bus driver. A $1,000 sign-on bonus will be paid to those approved applicants who complete the required training and have a satisfactory 90-Day performance review. An additional $500 will be paid at the completion of 180 school days. In addition, the Jay School Corporation will reimburse candidates for the following training costs upon a 90-day satisfactory performance review: DOT Physical: JSC will cover the cost at approved facility Drug Screen: JSC will cover the cost at approved facility Test Site Fee (1 Max): At Current Cost Permit Fee: At Current Cost License Fee: At Current Cost To qualify you must have or obtain the following: Have a seven (7) year clear driving status Obtain a Class B CDL with Passenger, School Bus and Air Brake Endorsements Successfully complete the IDOE Bus Driver Safety Education Course Complete four (4) hours of observation and eight (8) hours of driving with a certified driver Complete all steps within thirty (30) days Obtain a CDL Physical Pass a pre-employment DOT Drug and Alcohol Screening Submit to a pre-employment background check CDL License Helpful Links Indiana BMV Commercial Driver's License Overview Commercial Driver License Manual School Transportation Law (I.C. 20-27) Eligibility is based on corporation need. To learn more, please contact Melissa Stephen at
mstephen@jayschools.k12.in.us
or 260-726-5272.
Jay Schools are now closed today, Friday, December 10, 2021. An eLearning day will be implemented.
Jay Schools are on a 2 hour delay, Friday, December 10, 2021

Substitute Teachers Wanted!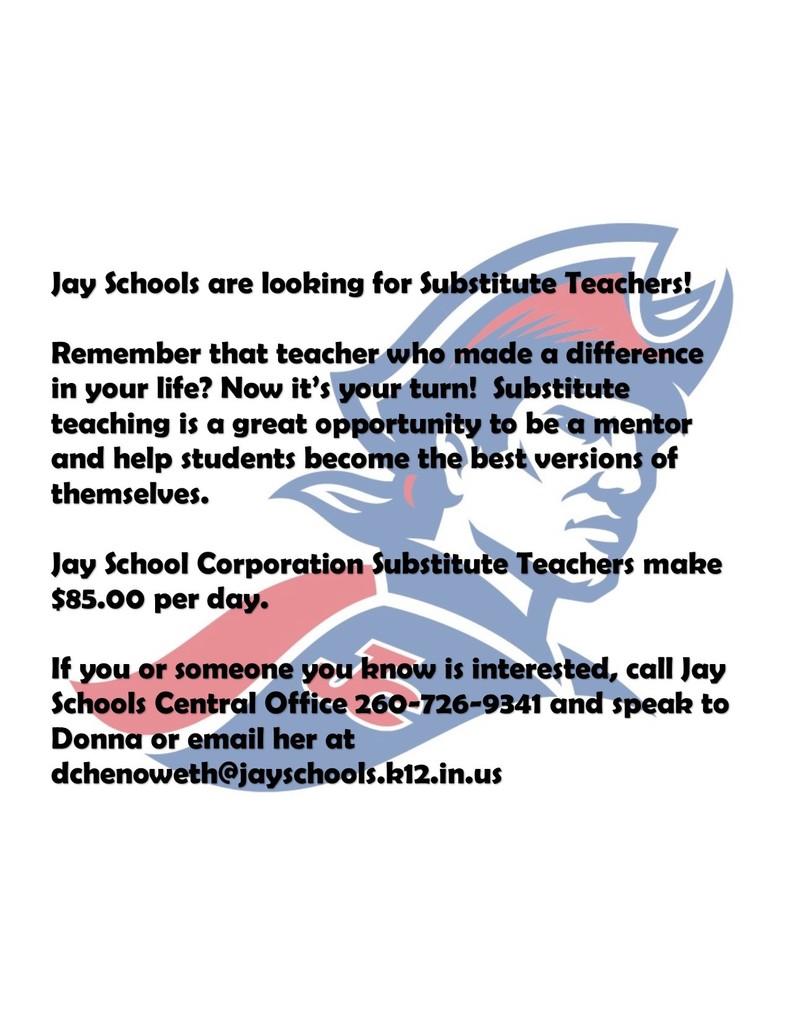 Proud to be a Patriot! Happy Veterans Day! Our schools promote patriotism, love of country and freedom. This will not change. Veterans and their families are honored in our schools today.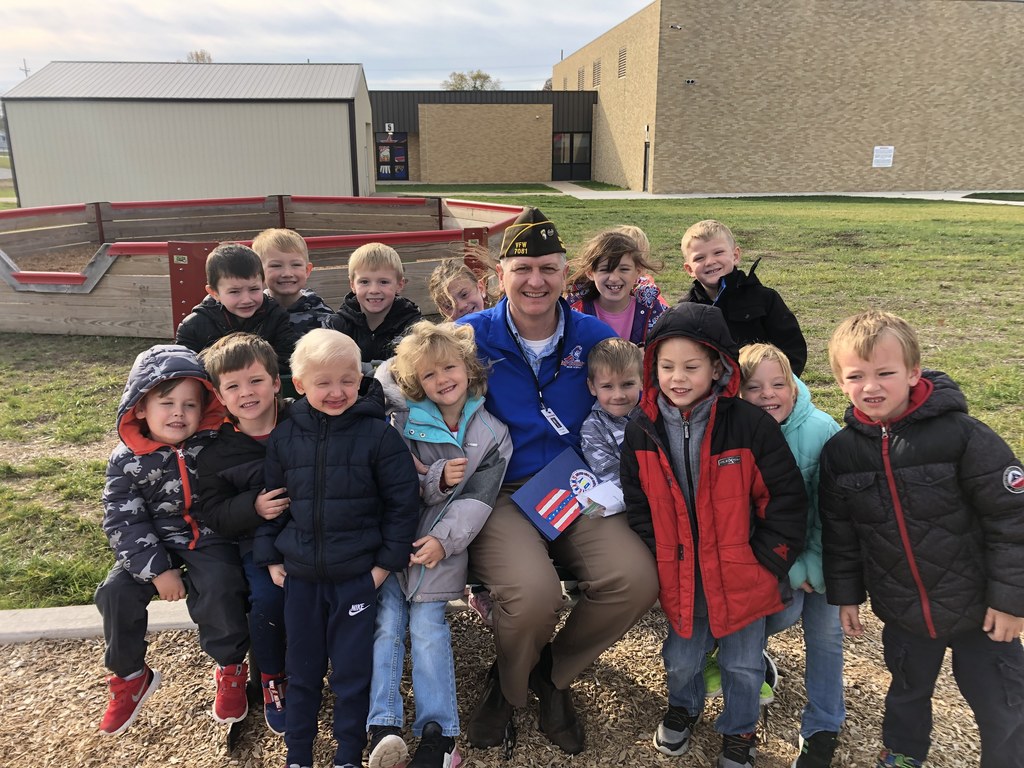 Jay Schools are now closed today, Wednesday, November 10, 2021. An eLearning Day will be implemented.
Jay Schools are on a 2 hour delay, Wednesday, November 10, 2021.

Reminder: Wednesday, November 3, 2021, is a regular scheduled school day. It is not a two hour delay day.

Tomorrow, October 6, 2021, is a scheduled Wednesday 2 hour delay for Jay Schools.
Jay Schools are now closed today, Tuesday, October 5, 2021. An eLearning Day will be implemented.
Jay Schools are on a 2 hour delay, Tuesday, October 5, 2021

Foodservice Important Information on National Supply Chain Issues At Jay School Corporation, students and families can continue to count on us for great-tasting meals kids love to eat every day, but as you may have already seen, there will likely be more frequent menu changes based on product substitutions from our suppliers. Understanding these supply chain challenges will likely continue for the next several months, we wanted to reach out and let you know we're doing everything we can to proactively address issues before they inevitably arise. Working in partnership with Foodbuy, our group purchasing organization and the largest procurement organization in North America, some of the proactive steps we have taken, include: • We have changed our ordering schedules to allow distributors more time to identify new sources for out-of-stock products in the event it occurs. • We've identified alternate suppliers and products where we found that existing ones wouldn't be able to meet our needs. For example, we learned our previous supplier for pizza dough would not be able to commit to serving our schools, so we contracted with a new one that can. • In June, we planned menus for this fall and began placing orders for food at that time. This process was designed to help suppliers and distributors plan well ahead for stock we need to serve kids now. If there's one thing the past 18 months has proven, it's that flexibility is in our DNA. From turning cafeteria operations into emergency feeding programs overnight when the pandemic hit to serving kids in classrooms and through meal-kit pick up sites through the past school year, our team is passionate about the meals we serve your students and they're skilled at quickly adapting to ensure that kids are always fed. One additional note for families with students who have allergies: please remind your child to be sure to check with the cafeteria manager regarding product substitutions that may not be reflected in the menu posted. We will make every attempt to update Nutrislice in real-time, but out of an abundance of caution, please do not solely rely on the digital nutrition panels to accommodate allergies or medical conditions. If you have any questions or concerns regarding your student's meals, please don't hesitate to reach out to Camila Green at
foodservice@jayschools.k12.in.us
or by calling the foodservice office at (260) 726-9306 ext 2262. Thank you in advance for your patience and flexibility during this time.